Podcast: Play in new window | Download
Over Coming Sexual Dysfunction
Empowering the Male Urge
Eric Von Sydow (Hypnotica) & Steve Mayeda on the TSL Podcast
The Solution to Erectile Dysfunction and Sexual Health
One of the most common questions I get asked is about erectile dysfunction or sexual dysfunction – 'What if I can't get hard?" or "What is I ejaculate too fast?" You have no idea how common this is. The worst thing you can do is make it a big deal. You need to know it is normal and a part of the sexual process. One of the problems is blaming it on porn, a sexuality or a belief.
Let's face it porn is not sex. It is not intimacy and it is not connection. However the anti-porn movement puts blame on sexual behavior cause a further disconnect with your self and sexuality. The anti-porn movement also gives no solution on your expression. It gives you an option to 'regulate' to its version of sexual health.
You need to get in touch with your sexuality. You need to experience it. You need to be sexual with your limitations, because it is then that you will get comfortable and no longer be limited by them.
Man after man has proven that if his body is physiologically capable of getting an erection as he gets more comfortable with his sexuality and sexual nature he will be sexual when he wants to be.

Eric Von Sydow is a legend in the story of men's evolution. Here we see a clip from him in the TSL Podcast breaking down the intense journey of sex and masculinity. Often times masculinity is misunderstood, encouraged to be suppressed. In this short clip we see the opposite. Eric & Steve talk about the empowerment of the man in his sex life. However it is not only the sex life that gets better. It is the total man.
Eric Von Sydow (aka Hypnotica) is an Author, Public Speaker and Inner game Guru. He was featured in the book "the Game" and has proven to be one of the leading forces in men's development in the last 20 years. Always positive, always funny and always sexual – Eric is a prefect fit for the TSL Podcast.
Follow Eric at – Hypnotica.org
Buy his book – Metawhore
Paper Back or Kindle (Maria Approved!)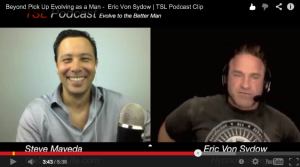 TSL's Mission is to provide a resource and platform for men to find total Improvement.
Dating, Entrepreneurship, Health & Fitness, Perspective and Relationships, TSL wants to be your center point for Personal Evolution. If we want to be the Better Man, you've got to work at it.
Our Podcasts, Newsletter, Articles and Products will help you on this journey.
Let's get started in our Evolution to be the Better Man.
Change Your Life
Take a look at our Products
- The Better Man's Guide to Dating & Lifestyle Click Here
- 90 Day At Home Intensive Click Here
-TSL Online – Full Service Course Click Here