Podcast: Play in new window | Download
The Best Dating Advice in 5 Mins
Greg Swann & Steve Mayeda on the TSL Podcast
TSL Podcast – The Best Dating Advice in 5 Mins
Greg Swann is an Author, Speaker and Modern Day Philosopher.
Follow Greg at – SelfAdoration.com
Watch his 21 Convention Speech – Greg Swan T21C, Austin, 2014
Follow him on YouTube – Greg Swann & Self Adoration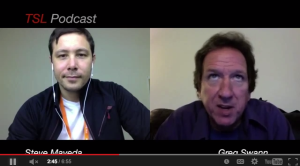 TSL's Mission is to provide a resource and platform for men to find total Improvement.
Dating, Entrepreneurship, Health & Fitness, Perspective and Relationships, TSL wants to be your center point for Personal Evolution. If we want to be the Better Man, you've got to work at it.
Our Podcasts, Newsletter, Articles and Products will help you on this journey. Let's get started in our Evolution to be the Better Man.
Sign Up for the TSL Newsletter – Change Your Life