Podcast: Play in new window | Download
The Mentality of Failure | Man at War
Ed Aiken & Steve Mayeda on the TSL Podcast
TSL Podcast – The Ultimate Fighting Mentality & the Mentality of Failure
Fighting has always been an aspect of men's development. And MMA is NOT Street Fighting. How do I street fight? How to survive in a combat situation? How to win in a knife fight? How do I protect myself and family from an violent attacker? These are questions asked over and over by men and rarely do we find someone with an answer. Ed Aiken from FightFastNFlee does have an answer. This is why he's a guest on the TSL Podcast. Check out this short clip (1 of 10) from his 2 hour long interview with us at TSL.
Edward Aiken is a Public Speaker, Martial Artist & Street Fighter. He is a 1st Degree Black Belt in Brazilian JiuJitsu and has studied martial arts under some of the world's best and legendary fighters. His roots are in tactical street fighting combat. He spent a decade working directly with famed tactical fighter Paul Vunak (SEAL Team 6 Tactical Trainer).  His mission in life is to teach men and women to protect, empower and assert themselves in today's tough world.
Follow Ed at – FightFastNFlee
Watch his 21 Convention Speech – Ed Aiken – T21C, Austin, 2014
Goto his site – Get his Newsletter, Invest in his Products – Learn to Street Fight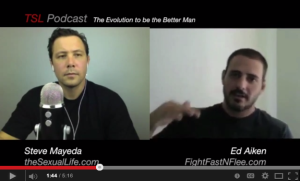 TSL's Mission is to provide a resource and platform for men to find total Improvement.
Dating, Entrepreneurship, Health & Fitness, Perspective and Relationships, TSL wants to be your center point for Personal Evolution. If we want to be the Better Man, you've got to work at it.
Our Podcasts, Newsletter, Articles and Products will help you on this journey. Let's get started in our Evolution to be the Better Man.
Take a look at our Products
- The Better Man's Guide to Dating & Lifestyle Click Here
- 90 Day At Home Intensive Click Here   
- TSL Online – Full Service Course Click Here